Courtney Barnett Argentina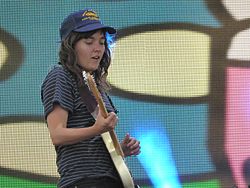 El Music Wins en 2016 fue una fiesta de la música. Tuvo lugar el 13 de noviembre en Tecnópolis y el line up estuvo lleno de artistas que volaron la cabeza a los asistentes. Una de las artistas más esperadas fue la revelación de 2015, Courtney barnett argentina,
La cantante y compositora australiana sacó su primer disco Sometimes I Sit and Think, and Sometimes I Just Sit en marzo de 2015. No solo fue súper aclamada por la crítica internacional, sino que el éxito en el mercado fue increíble. Alcanzó los cinco primeros puestos de los rankings musicales de Australia, y los primeros veinte en USA y el Reino Unido.
Sobre su vida privada no sabemos mucho. Terminó sus estudios secundiarios en Tasmania. Si bien luego comenzó la carrera de fotografía artística, tras dos años abandonó y a los veinte años decidió dedicarse de lleno a la música en la ciudad de Melbourne. Durante su adolescencia mantuvo en secreto su homosexualidad por miedo. Pero al revelarlo su gente más allegada aceptaron sin mayores dramas. En 2011 comenzó un noviazgo con la música Jen Cloher, con quien actualmente vive en Melbourne.
Hoy tiene 30 años y junto a Cloher tiene un sello discográfico llamado Milk! Records. Esperamos oir más!